Text from Henry Disston and Sons, Inc., Lumberman Handbook, Published 1907.
---
LUMBERMAN HANDBOOK.

THE MAKING of
DISSTON SAW HANDLES.
All Disston handles are made of carefully selected lumber, thoroughly seasoned. This lumber is stored in large piles in the yard,
which well compares in size with many large commercial yards. It is air seasoned for at least three years and then receives the complete and final drying in the drying room, whence it passes to the planing machines, where it is planed down to an even thickness. It is next sawed into small pieces, generally of such size that two handles may be made from each of them. The markers then trace the shape of the handles with lead pencils around sheet steel patterns.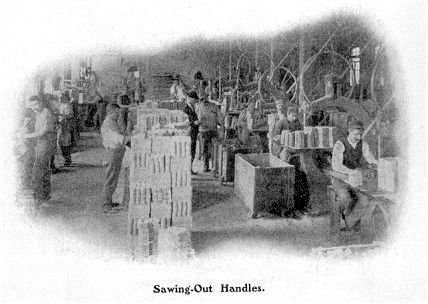 They are then cut out by the band saws, after which a hole is bored in the centre through which the jig saw enters and cuts out the centre piece. They are now sent to the "nosing" machine where the nose is shaped.
"Jimping" is the next operation. In this the roughly cut out handles are brought in contact with swiftly revolving cutters, and the edges are rounded. The handles now pass on to the filers, who work them into the finished shape. This is followed by "sand-papering" on belt machines.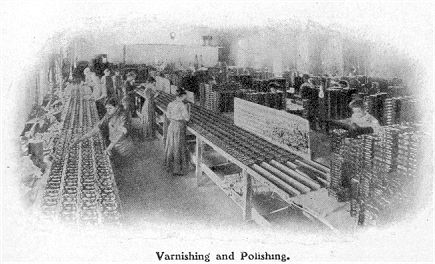 The next step is "varnishing," after which comes "slitting" as it is termed, or the process of sawing the slot in the handle in which the blade rests. In connection with this operation the handles are bored and countersunk for the bolts or screws.
If the handle is to be "carved," that work is now done, then follows "polishing."
The woods used chiefly for making handles are beech, apple, cherry, walnut and other hard woods. Beech is the wood generally used, but apple is the favorite.

---
Back to saw construction article
Back to list of articles
Back to home page
---
[BACK HOME]